5-Star U-1st FCU Fostering Relationships, Accountability
August 14, 2018
---
December 2017: BauerFinancial Coral Gables, Florida, the Nation's Premier Bank and Credit Union Rating Firm, is proud to announce that U-1st Community FCU, Carlsbad, New Mexico, has once again secured a 5-Star rating. What a great way to start 2018! (A five-star rating indicates the credit union excels in areas of capital adequacy, profitability, asset quality and much more.) U-1st Community F.C.U. has earned Bauer's Recommendation (5-Stars or 4-Stars) for 42 consecutive quarters.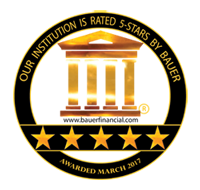 "Because credit unions focus on their specific field of membership, they are perfectly positioned to provide the specialized support that is unique to them," acknowledges Karen L. Dorway, president of BauerFinancial. "Credit Unions, like U-1st Community FCU, promote the financial needs of their members by investing back into that same member pool. By fostering these relationships, they achieve two goals: they are highly capitalized and they are accountable to their members."
Established in 1955, U-1st Community FCU has been reinvesting in its members for 62 years. It currently operates through a conveniently located office on North Canal Street in Carlsbad and can also be found online at u1stcommfcu.net.
U-1st Community Federal Credit Union: "Where We Put YOU First!"
Member of the NCUA and an Equal Housing Lender.
BauerFinancial, Inc., Coral Gables, Florida, the nation's leading independent bank and credit union rating and research firm, has been reporting on and analyzing the performance of U.S. banks and credit unions since 1983. No institution can pay for or opt out of BauerFinancial rating. Consumers may obtain free star-ratings by visiting bauerfinancial.com.